Our purpose is to connect, encourage, and involve individuals and couples. We provide activities,
classes, and ministry opportunities to strengthen all of us on our spiritual journeys.

...and let us consider how we may spur one another on toward love and good deeds. Let us not give up
meeting together...let us encourage one another. Hebrews 10:24-25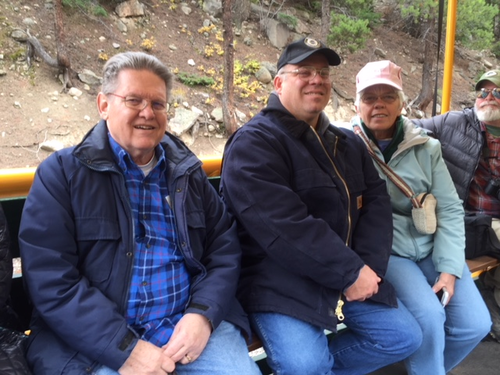 WE ARE EXCITED TO ANNOUNCE THAT JOURNEY IS BACK!
AUGUST LUNCH & LEARN - Thursday, August 12, 11am - Rambler Ranch
We'll meet there (36370 Forest Trail, Elizabeth, CO, 303.324.6780) - $20 admission fee. Please bring your own lunch and we will picnic together. Please RSVP to Nadine Harouff at 720.935.6671 or
nharouff@comcast.net
As the saying goes, The Ramble Ranch is both "well worth the price of admission" and "an absolute must-see". As it is the single most comprehensive assemblage of Nash, Rambler, AMC, Jeep, and Eagle vehicles, Kelvinator appliances and various associated products, advertising promotional materials, toys, collectibles, and ephemera anywhere in the world.
SEPTEMBER LUNCH & LEARN - Thursday September 16 - Thank You to Police OfficersOCTOBER LUNCH & LEARN - Thursday October 7 - Cary Johnson from Jefferson County Attorney's Office on Fraud & ScamsTRIP TO BRANSON, MISSOURI:
November 8-13, 2021 - Register NOW!
If you haven't signed up talk to Nadine. We need 30 for this trip to happen. We aren't there yet, invite your friends and neighbors.
Click Here for Trip Details!
Click Here for Registration!
Please print out and turn in to Nadine, Pastor Roger or at the reception desk.
DECEMBER LUNCH & LEARN - Wednesday, December 8 - Christmas Concert with Jerry NelsonFUTURE EVENTS:ISRAEL TRIP 2022

Sign-up for our email newsletter or other email notifications: