Our purpose is to connect, encourage, and involve individuals and couples. We provide activities,
classes, and ministry opportunities to strengthen all of us on our spiritual journeys.

...and let us consider how we may spur one another on toward love and good deeds. Let us not give up
meeting together...let us encourage one another. Hebrews 10:24-25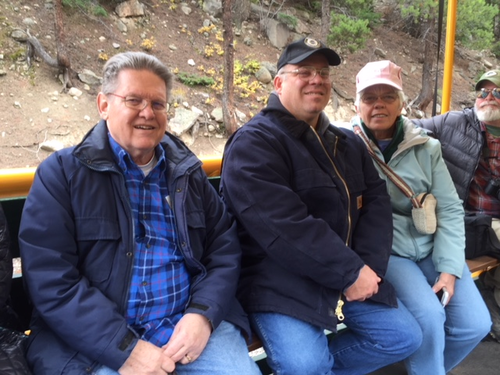 WE ARE EXCITED TO ANNOUNCE THAT JOURNEY IS BACK!
APRIL LUNCH & LEARN:
Thursday, April 8, 12-2pm, Fellowship Hall
Guest Speaker - Dr. Jim Diehl, former Pastor of Denver First Church & General Superintendent of the Church of the Nazarene.
Click here for his biography:
https://nazarene.org/james-diehl
We will be serving box lunches that will include a turkey sandwich, chips, orange, and a cookie ($5 donation appreciated). When you RSVP, please say "yes" or "no" to the box lunch (feel free to bring your own).
RSVP to Nadine:
nharouff@comcast.net
or 720-935-6671
MAY LUNCH & LEARN:
Date to be determined...
We will be honoring those that have served in the Military. Keep watch for the details to come.
JUNE LUNCH & LEARN:
Thursday, June 10, 12-3pm, Fellowship Hall
We are working with Liz VonSeggen to have her drama team perform.
JULY LUNCH & LEARN:
Thursday, July 15 - Save the date!
More info to come...
FUTURE EVENTS:TRIP TO BRANSON, MISSOURI:
November 8-13, 2021
Click Here for Trip Details!
Click Here for Registration!
Please print out and turn in to Nadine, Pastor Roger or at the reception desk.
ISRAEL TRIP 2022

Sign-up for our email newsletter or other email notifications: